Chicago (2002)
is a musical comedy and crime drama, based on Maurine Dallas Watkins' 1926 play of the
same name.
The setting is in post war Chicago, 1920's, where jazz clubs were prominent and their burlesque dancers
were famous. It is remembered as a glamorous time, in a nation that was optimistic, high off the
excitement from the Great War's end. The returning troops and rising economy made for patriotic
citizens. Hollywood began to dominate the production of global media, ever conscious of their image.
This is subtly reflected in the background of
Chicago
.
In this, we see the dominance remain consistently above, but with the range between the
highest and second highest shrinking over time.
As the economy fell, the glamorization of the decade before became even stronger, as
"the depression was raging on and Americans desperately needed an escape,"
Nancy West of UMissouri said. "Musicals presented an ideal genre for the escape because it
made people leave the gloom and doom of poverty behind and see films that depicted people
in joyous movement but had very lavish surroundings."
Examples of these lavish 1940s
musical escapes include the quintessential "42nd Street, [a story of] a working class woman
toiling to break into showbiz. It starred Ruby Keeler, Hollywood's top tap-dancer of the time.
"She's struggling—there's one scene where she faints from hunger—so there is a gesturing
out to the Depression: 'We recognize what kind of world you're living in,'" West said.
"And then she makes it."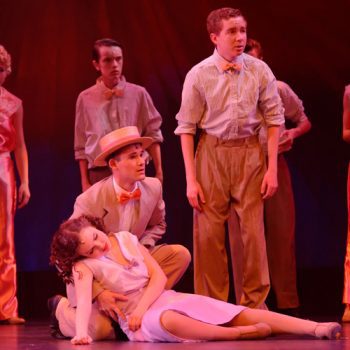 As the 30s became the 40s, interest in musical theater declined, because the main threat to
the US was not a poor economy, but mass death of young men and women in WW2.
These new musicals were marked by their somber tones, serious subject matters,
and nods to the political atmosphere. As Technicolor and Talkie technology became
widespread, artists wanted to explore the extents of the medium, which also contributed
to a decline in theater ticket sales.
Chicago
captures a tidbit of the more toxic side of American culture and the American Dream, not in booze, jazz, or infidelity, but in the act of of celebritizing and our macabre obsession with murder.
Celebrity is all our main character, Roxie Hart (Renée Zellweger), cares about. She looks up
to an already famous dancer Velma Kelly (Catherine Zeta-Jones) in the same position as her,
on trial for murder. This movie highlights the fixation Americans have with
the allure
of high glamour, bloodshed, passion, and pitting influential women against each other.
Velma has been famous for awhile, while Roxie is considered fresh meat, a fresh headline,
a fresh face. The scramble to be the Top Dog, (or Top Bitch,) in the public's eye is almost
completely because of the shift of journalist attention from Velma's double murder, to
Roxie's manslaughter in "defending herself".
Not only does it mock the act of celebrity murderers, but it also places a spotlight
on the phenomena of public opinion swaying the legal justice system.
This movies comes after OJ's trial, and the director takes full advantage of visual shorthand
in the courtroom scenes.
The musical aspect is justified as non-diegetic by being completely centered around
Roxie's fantasies. Roxie herself is neutral on the interesting scale, I argue that Amos
or Velma are the most interesting character. I do, however, like her character arc.
She changes from all the attention given to her, from a naive dreamer to a shysty dreamer. Its a
very fitting conclusion to such hilarious and bleak movie. No one is brought to justice, no one
learns anything and the cycle of young women wanting to be famous continues.
-Amber "Bad-at-Conclusions" Ventura